Pricing & Payment Options
Dixon Energy has the right solutions for customers in Morris, Somerset, Union and southern Sussex Counties, N.J.
In the more than 100 years that Dixon Energy has been serving our neighbors, we've learned that customers are not all the same. They have different needs when it comes to managing their heating oil and propane costs.
That's why we don't try to fit everyone into one type of pricing or payment plan, but instead offer options so you can choose the ones that work best for you!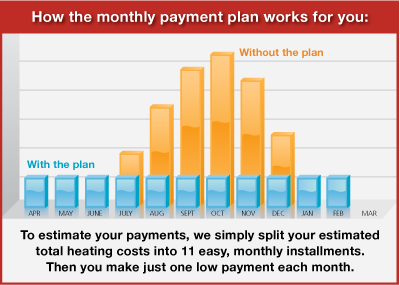 E-Z Pay
Many of our customers here in Morris, Somerset, Union and southern Sussex Counties love E-Z Pay, because it's just that: easy. You get control over your monthly bills by spreading your heating oil and/or propane costs out evenly over 11 months, instead of being hit with larger bills during the winter.
We make it easy to estimate your payments. Log into your account now and use our EZ Pay calculator. Contact us today.
E-Z Pay customers also get a discount of 3¢ per gallon for their heating oil!
Auto Pay
With convenient Auto Pay we will automatically charge your credit card each month. That frees you from having to remember to pay your bill or worrying about late fees. Contact us today.
Paperless billing
No more digging through the pile of mail to find your monthly bill. With paperless billing, your Dixon Energy bill is safe and sound, and easy to find, in your email in-box. Contact us today.
Dixon Energy's pricing options include PreBuy, Price Cap and Fixed Price plans. Contact us and we'll help you choose the right ones for your needs and your budget!