Heating Oil Delivery in Union County: High-Quality Fuel for Your Business or Household
Families Throughout Union County Trust the Team at Dixon Energy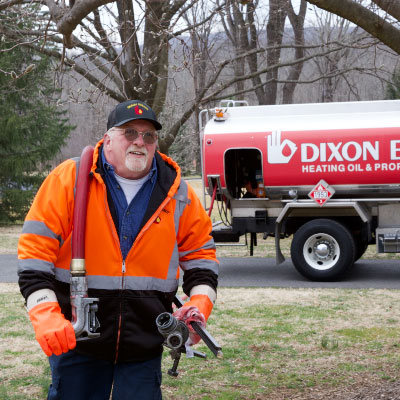 If you're looking for a heating oil delivery company that is committed to safety, affordability, and customer satisfaction, you've come to the right place. Reliability is at the heart of our business, and we're dedicated to building long-term relationships with our valued customers. We want to ensure your comfort and peace of mind — 24 hours a day, 365 days a year. At Dixon Energy, we believe in the values of respect, hard work, and reliability, and we put them into practice every day to provide the best service to our customers.
When you choose us as your full-service heating oil provider, you can expect nothing but the best, from reliable delivery to expert advice and support, all under one roof.
We understand the importance of having a well-trained staff, and we invest in ongoing training to ensure that our team stays up-to-date with the latest heating oil -related information and best practices.
With our emphasis on delivering premium heating oil at a fair price, you can rest assured that you're getting the best deal in without sacrificing quality.
With ample resources and supplier relationships, we have the capacity to meet the heating oil delivery needs of customers.
We're committed to providing our customers with a convenient and secure way to pay for their services. Our online payment portal is just one of the ways we achieve this goal.
Don't wait – contact us today to schedule your heating oil delivery and experience the best service in the business.
Reviews
Our commitment to customer satisfaction is reflected in the glowing testimonials we receive from happy customers.
Contact Us
We want to provide your household with the most dependable heating oil delivery around. Reach out today to become a customer.
About Us
Over the years, we have built a strong reputation as a trusted partner for our customers, earning their loyalty and confidence through our commitment to excellence.
NOTE: heating oil emergencies require immediate attention. In the case of an emergency, don't email us. Call us at +1-973-265-2914.
Address:
Dixon Energy 100 Pocono Rd, Mountain Lakes, NJ 07046
---
Phone:
+1-973-265-2914
---
Hours:
Sunday: Closed
Monday: 7:30am – 4:30pm
Tuesday: 7:30am – 4:30pm
Wednesday: 7:30am – 4:30pm
Thursday: 7:30am – 4:30pm
Friday: 7:30am – 4:30pm
Saturday: Closed