Furnace Installation, Maintenance and Repair in Morris, Somerset, Union and Southern Sussex Counties, N.J.
Trust Dixon Energy to upgrade, maintain and repair your home's forced-air heating system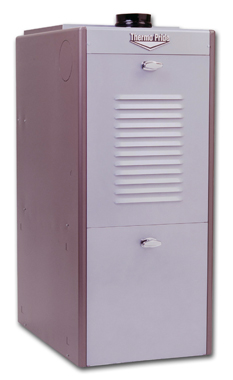 Furnaces remain the most popular home heating system in the United States. It's easy to see why.
Furnaces get your home warm faster than other heating systems. They're much easier on your wallet, because they're easier to install and have lower maintenance and repair costs than other types of heating systems. They are also incredibly long-lived, lasting up to 30 years—about twice as long as some other heating systems.
And if you want to have central air conditioning, indoor air quality equipment or whole-house humidifiers in your New Jersey home, you'll need the ductwork that goes with a furnace.
When should I upgrade my furnace?
If your furnace is 20 years old or older, it's probably getting more inefficient every year. A furnace older than 20 years old can have efficiencies as low as 53%. That means 47% of every dollar you spend on fuel for your furnace — whether it's heating oil, propane or natural gas — isn't going toward heating your home. That's a lot of wasted money!
Today's high-efficiency furnaces, on the other hand, offer efficiencies of up to 90%. You'll be saving money with lower energy bills, meaning your new furnace is starting to pay for itself right out of the gate. Our smart thermostats also help improve efficiency and increase savings.
Dixon Energy installs efficient, quality furnaces from leading makers, including Bosch and Thermo Pride. Our service technicians are trained and experienced, so you can trust us to provide safe and proper installation of your furnace, giving you peace of mind.
Furnace repair and maintenance
Dixon Energy doesn't stop at installing your new furnace.
Whatever your furnace's age, our service technicians are experts at performing thorough, professional furnace maintenance so that your system runs at its peak efficiency.
During our tune-ups, we carefully inspect your furnace to spot any problems before they can reduce its efficiency or cause a breakdown and costly repairs.
When repairs do become necessary, we're on the job with a fully-stocked service truck, ready to get things done right, so your home will stay warm and comfortable.
Dixon Energy makes maintaining and repairing your furnace easy with our range of affordable service plans.
We partner with the National Energy Improvement Fund to offer financing, and also will help you find specials and rebates.
Contact Dixon Energy to learn more about our furnace services!