Heat Pump and Ductless Mini-Split Installation in Morris, Somerset, Union and Southern Sussex Counties, N.J.
Count on Dixon Energy for quality mini-split (heat pump) services
What do you know about heat pumps, also known as ductless mini-splits?
If you don't know much, we're here to tell you how they can be used in your Morris, Somerset, Union or southern Sussex County home.
Dixon Energy is a local leader in mini-split/heat pump installation, maintenance and repairs.
What exactly are mini-split systems?
There are three main components to a ductless mini-split system.
The first is an outdoor compressor/condenser. The second is an indoor air-handling unit. They're connected by the third component, the conduit, which holds the power cable, copper tubing, and condensate drain.
Colder air from the outdoors is sent into the compressor/condenser, where it is compressed. That heats the air, and from there it goes inside your home.
Why choose a ductless mini-split?
Ductless mini-splits mean you can heat your home, or a single space, without installing ductwork or baseboard radiators. They're energy-efficient and, without ductwork, there's no heat loss. Ductless mini-splits are also easy and affordable to install.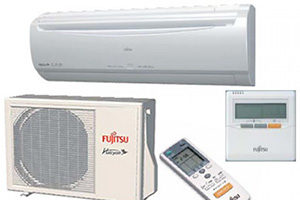 Today's heat pumps/mini-splits are quite different than the ones of just a few decades ago. You can operate them with a remote control or even an app on your smartphone. They're also much more compact than they used to be, so they aren't obtrusive, and they blend in better with both the interior and the exterior of your home.
You can have zoned heating in your home, meaning you're not heating the whole house when you're only using part of it. And even if you already have a furnace or a boiler for home heating, a ductless mini-split provides heating to unheated (or underheated) spaces like finished attics, three-season porches, garages, workshops and home additions.
We offer financing through National Energy Improvement Fund, and also offer specials and rebates.
If you need ductless mini-split/heat pump installation, heat pump maintenance or heat pump repair, contact Dixon Energy!