Rebates & Financing
Dixon Brothers can help save you money!
Purchasing home heating, cooling and comfort equipment is a big investment. The professionals at Dixon can help you make sure you get the right system, get rebates you're entitled to and help with any financing you need.
---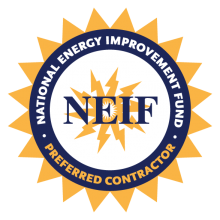 Attractive financing options with NEIF
Dixon Energy is proud to partner with the National Energy Improvement Fund (NEIF) in providing financing to our customers so you can take advantage of our equipment upgrades.
NEIF recently lowered rates to a 7.99% fixed rate — with optional loan lengths of 3, 5 or 10 years — on its EnergyPlus financing for qualifying purchases from NEIF-approved contractors.
Financing through NEIF is simple, transparent and fair. 
Working with this certified B Corp makes it easy for you to upgrade your home's heating and cooling systems so that you can begin saving on your energy costs.
Visit our page on the NEIF website to learn more.
---
Upgrade & Save New Jersey Rebate
Through the New Jersey energy-efficiency rebate program, you can get:
$250 for upgrading to a high-efficiency oil-fired furnace
$300 for upgrading to a high-efficiency oil-fired boiler
$700 for upgrading to high-efficiency oil-fired integrated heat and hot water unit
The Upgrade & Save rebates are available for a limited time only on a first-come, first-served basis. So don't delay: Contact us today!
---
Dixon Brothers EXCLUSIVE on Energy Kinetics heating system
$350 rebate on a new Energy Kinetics heating system
Enjoy the benefits of one of the most efficient oil heating systems on the market AND get a rebate! Contact us for more information.