Mini-Split A/C: A Smart Solution For Home Cooling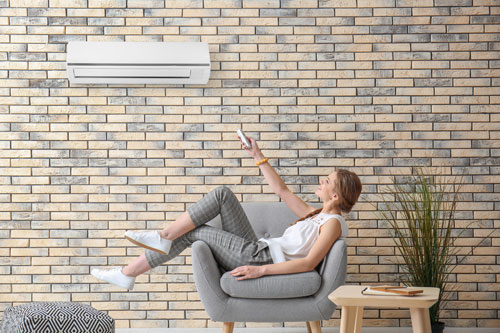 If you've been dreading the idea of running loud, costly window air conditioners this whole summer while you're spending so much time at home, we've got good news: there's a much better alternative available.
A ductless mini-split system is a much smarter cooling solution for your New Jersey home than window A/Cs. You've probably seen them in restaurants or stores (they're the long units that mount on your wall), but there's much more to them than meets the eye.
A Primer On Ductless Home Cooling
A mini-split (or ductless) system has two parts – an indoor component (sometimes called an air handler) and an outdoor component (the condenser/compressor), which connect via a narrow pipe. A single outdoor unit can operate up to four air handlers.
The key advantage of a mini-split system is that it doesn't need ductwork.
This means:

It can be installed quickly and cost effectively;
It can mount anywhere in your house, including rooms without windows
Your air quality will improve, since there are no ducts in which dust and harmful microorganisms can accumulate; and
You won't loose energy through leaky ducts (in a central air conditioning system, as much as 20 percent of your cool air can be lost this way).

Another key ductless mini-split advantage is that the system is very flexible: not only can you vary the size of air handlers for each room, but you can also control the energy spent in each zone via the indoor unit's thermostat. This helps you to create high efficiency cooling zones.
Unlike window A/C units, a mini-split won't take away your view or provide a way for an intruder to invade your home; All that mini-split system installation requires is a 3-inch hole in your wall to connect the air handler to the condenser.
Mini-split systems are extremely efficient, with some achieving SEER ratings ranging well into the 20s (most are in the 18-20 range). A window air conditioner, by contrast, usually operates in the 15- to 16-SEER range.
Mini-split systems are much quieter than a window air conditioner, since the part that makes noise (the compressor/condenser) is outside your house (rather than inside the unit, as it is with window A/Cs).
When you add it up, a mini-split air conditioning system has big advantages over window air conditioners, giving you many of the benefits of central air conditioning without the need for ductwork. A ductless system can also be used to supplement your primary central air system, providing relief for your main cooling equipment as it manages hard-to-cool rooms or home additions.
Could a ductless cooling system be right for your NJ home? Contact us today and let's talk about it. We'll give you a comprehensive FREE estimate on a ductless cooling system that works for your space and budget and get it installed in just a day or two.
For ductless air conditioning installation in Morris, Union, Somerset, and southern Sussex Counties, NJ, nobody beats the pros at Dixon Energy!
Please note: at Dixon Energy, your safety and comfort are always our priority. Please see our Covid-19 Service Update Page to learn more about how we are working to keep you and our crews safe and your home comfort systems working during this challenging time.