How Far From a House Should You Place a Generator?
Safety and convenience are our top priorities for your generator installation.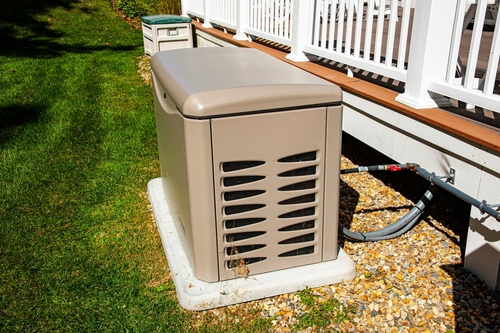 An unfortunate fact of life is that our electric grid is less reliable than ever before. Power outages have become more common (and longer) in recent years in Morris, Somerset, Union and southern Sussex counties.
But New Jersey families with a backup generator enjoy total peace of mind. Even when the grid fails, their food stays fresh, their home comfort systems stay on, and their crucial home medical equipment continues without interruption.
Unfortunately, it's also possible for a poorly installed or positioned generator to create a safety risk. This is especially true of gasoline-powered portable generators. The Honeywell propane generators that we sell and install produce fewer harmful emissions, but Dixon Energy's technicians are still extremely careful when doing a generator installation. Here are some of the factors we keep in mind when placing your generator.
Safe propane generator placement
When you have a propane generator installed, the number one priority is safety.
According to the National Fire Protection Association, gas-powered generators need to be a minimum of five feet from any openings in the home's walls. This would include any doors or windows. Additionally, your generator needs clearance of at least 18 inches from its backside, where electric and gas inlets are, and a full three feet clearance on all other sides to allow for air intake and the release of any combustion byproducts. Finally, you should allow 60 inches of clearance from any combustible materials, including wood and vinyl siding.
Other considerations for a generator installation
With safe clearance foremost in our minds, we look for the most convenient position for your propane generator. We work to minimize the distance from both your home and the propane tank . Doing this reduces the length of your gas piping, which lowers installation costs and the potential for a damaged line.
We also pay attention to local building codes and ensure that your generator fully complies with them.
Why choose a propane generator?
The most significant benefit of propane generators is their dependability. They connect directly to your home's propane supply, so you never need to refill them. This is crucial during a prolonged blackout when gas stations may not be functioning.
Propane also emits far less carbon monoxide, nitrogen oxide and sulfur oxide than gasoline, ensuring better air quality around the generator.
The generators also come in a range of capacities. You can power your whole home or just specific essential systems and appliances.
Trust the generator professionals at Dixon Energy.
Installing a propane generator involves a lot of specialized skills. It's not the kind of job you want to try as a DIY project. Luckily, northern New Jersey households are one phone call away from the licensed and experienced pros at Dixon Energy. We've handled more propane generator installations than any company in the area and are ready to help you achieve total power independence today!
Don't wait for the lights to go out to contact us about a propane generator. Reach out for a consultation.