Pricing Plans and Payment Options
Dixon Energy makes managing your propane costs easy!
You learn a lot about your customers when you've been in business for more than a century. And at Dixon Energy, we've learned that our customers have different needs when it comes to managing their propane costs. We can't offer one single payment method.
So we offer options that you can choose from to give you more control over your propane costs.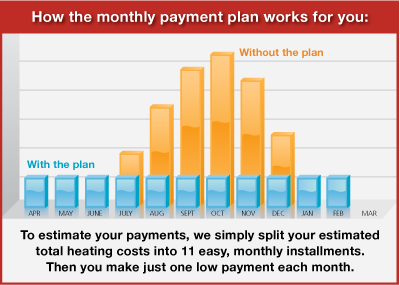 E-Z Pay
Our customers love E-Z Pay, because it is just what it says. It makes paying your propane heating bills easy! Instead of monthly bills that fluctuate wildly due to weather or market conditions, your propane payments are spread out evenly over the year. That makes it easier for you to plan your budget. E-Z Pay is available to customers who use propane for heating and are enrolled in Automatic Delivery.
We make it easy to estimate your payments. Log into your account now and use our EZ Pay calculator.
Auto Pay
If you like things easy, this is the gold standard! With convenient Auto Pay we will automatically charge your credit card each month. No need to remember to mail the bill, or pay it online. No worrying over late payments. It's all taken care of.
Paperless billing
Hate having to rummage through all of your mail to find your Dixon Energy bill? Enroll in paperless billing and you won't have to! Instead, your bill is sent to your email account, so you can always easily find it. You can also pay your bill online!
Contact Dixon Energy to learn all about our pricing and payment options!