How Can You Protect Your Home Against COVID-19?
The REME HALO®'s In-Duct Air Purifier is a Critical Tool in Combating the Virus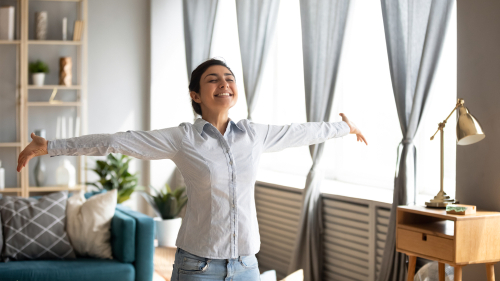 When we recall the start of the COVID-19 pandemic, it's safe to say we've come a long way. Families across New Jersey have adapted to the new normal, taking precautions and working together to slow the spread of the virus.
Even so, we face lingering uncertainty. The coronavirus has mutated into new, more transmissible variants. It's natural to worry about whether you're doing everything you can to keep your family safe. Many worry about their air quality and the invisible toxins they might be breathing.
At Dixon Energy, we understand these concerns and have you covered. We can help you ensure the cleanest, highest-quality air for your home.
Understanding Air Quality and COVID-19
There's good reason to worry about indoor quality. Unclean air can cause dry skin, cracked lips, persistent allergies, respiratory problems and lowered immunity. Now, we can add COVID-19 to that list. Cleaning and purifying the air in your home can significantly reduce the risk of spreading the virus.
Luckily, we offer amazing tools to purify your home's environment!
Kill 99.9% of the Virus with REMO HALO
Dixon Energy proudly installs the REME HALO in-duct air purifier.
Recent studies conducted by the RGF Environmental Group have confirmed that the REMO HALO kills 99.9% of the COVID-19 virus! It also kills bacteria and mold and combats pollutants like particulates, microbial and gases.
Every cubic inch of your home is cleansed using its unique reflective electromagnetic technology, which releases hydrogen-peroxide molecules into every place air is blowing.
Dixon Is Committed to Helping You Breathe Easier
Our indoor air quality experts are ready to help you fully clean your indoor air.
Beyond the excellent REMO HALO, we can install the Air Scrubber by Aerus. This device attaches directly to your HVAC system's ductwork and removes toxins, dander, dust and unpleasant smells. This will help you breathe easier and stay healthier. Plus, it will help your HVAC system function better and last longer!
Additionally, consider adding a whole-home humidifier for a more comfortable overall environment.
Dixon Energy is dedicated to providing families throughout Morris, Union, Somerset and southern Sussex Counties with a comfortable and safe home. If you think your air quality could be better, give us a call today!