Extinguishing a Grease Fire on Your Propane Grill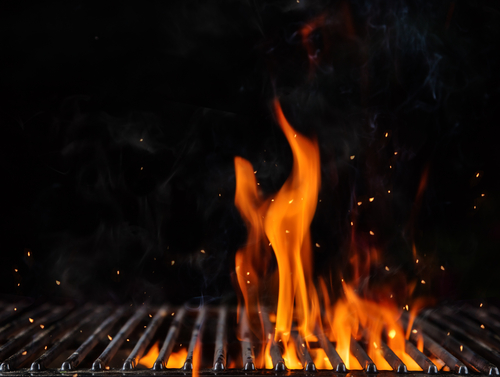 Usually, cooking food on a propane grill is a cinch. But any time you're dealing with fire and grease, accidents are always a possibility – and it's important for you to know exactly what to do, and not to do, if you have a grease fire or flare-up.
Here's the scoop about grease fire safety on your propane grill:
Stay ready:

When you grill, have a cell phone nearby in case you need to make an emergency call
Keep a fire extinguisher, gloves and either baking soda, sand or kosher salt near your grill to extinguish flames.

If you have a fire and it's safe to do so,

Turn off the grill's burners.
Remove the food and smother the flames by throwing baking soda, sand or kosher salt over it. NEVER use water to extinguish a grease fire or flare up. 
Close the lid and any grill vents to further starve the fire of oxygen.

If the propane tank has become part of the fire, or if the fire expands out of control, evacuate the area immediately and call the fire department.
How To Avoid Grease Fires and Flare-ups
Of course, the best way to deal with grease fires and flare-ups is to avoid them in the first place. Here are the best ways to do it.
Clean your grill regularly, following instructions from your manufacturer. Regular cleaning will greatly reduce the risk of a fire (your food will taste better, too).
Grease sometimes pools in the fire box area around the burners. If it is safe to do so, turn off the gas and leave the lid open so the grease can burn off.
Always cook with the lid down, and leave it down during cooking time.
Oil the food, not the grates.
If you experience a grease flare-up,

Immediately move the food to a warming rack, using long-handled tongs
Slowly re-place food at center of the grill to let fat burn off; continue this process for each item.
Once all food has been returned to the grill, finish cooking with a watchful eye.
 
Grill safely and often this summer with reliable propane deliveries in NJ from the pros at Dixon Energy. Contact us today to learn more!